HELLO! This is TJ! Well...actually Emily but...oh well...just call me TJ!

Hey guys! This is me updating again! I promise I will put pictures on, as SOON AS I GET ANY LOL!
Okay...say it...
ANOTHER HANSON WEB SITE!!!
Lol...that was quite relieving actually...
Don't ask why. Don't ask why a hanson website. I just don't know.
So...here is my lickle description (cos I ain't got nothing else to write!)
My name is REALLY Emily...not TJ.
In case you're wondering, TJ stands for Tammy Jen...she's a character from Blood, Tears and Friendship, which my friends said is nearly exactly like me. As if...
I'm 15...at the moment. Just wait till next year...
I live in England (I do? News to me...)
I erm...like Hanson?
Emily:Founder of page
Emily:Editor
Emily:Time-waster
Emily:Donut-eater
Emily:Who ate all the pies...who ate all the pies...
Emily:okay, stop this now...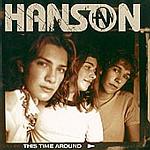 Hey Guys! I have A PICTURE!!! WAHAY! Okay, I lie...
I have many more pictures, but this uploading thing is sooooo slow...and I would like to ask you guys and girls out there for a favour. If you have anyu pictures, any pictures whatsoever, that you don't mind giving me to put on this site, I would be so happy, and give you a mention, 'kay? Thanks!